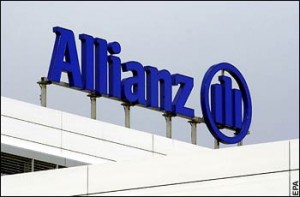 (Reuters) – The latest claims data on superstorm Sandy in the United States do not threaten the full year operating target of Allianz (ALVG.DE), Europe's biggest insurer said on Friday.
Allianz raised its 2012 operating target on October 29 just as Sandy blasted through the Northeastern United States, saying it expected operating profit to exceed 9 billion euros ($11.5 billion), above the 8.7 billion it had previously seen as the top of its target range.
The insurer confirmed the new target on Friday alongside details of its third quarter earnings, after giving headline results last week.
"This outlook considers preliminary estimates regarding the impacts of hurricane 'Sandy' as per November 8, 2012," Allianz said, warning that claims from large catastrophes sometimes take weeks or months to be finalized.
Disaster modeling companies expect Sandy caused as much as $20 billion in insured losses, not counting flood damage that could add billions more to the total.
The insurer on Friday said operating profit rose by a third to 2.53 billion euros in the third quarter, with property-casualty operating profit up just 4.3 percent but life-health and asset management up nearly 60 percent.
Allianz's share has risen by 27 percent since the start of the year, slightly outpacing the STOXX Europe 600 insurance index .SXIP. Shares in Europe's No. 2 insurer, Axa (AXAF.PA) have risen by less than 20 percent over the same period.
According to Thomson Reuters StarMine, which weights analyst forecasts according to their track record, Allianz trades at 7.9 times 12-month forward earnings, a premium to Axa, which trades at a multiple of 6.2.
(Reporting by Jonathan Gould; Editing by Elaine Hardcastle)