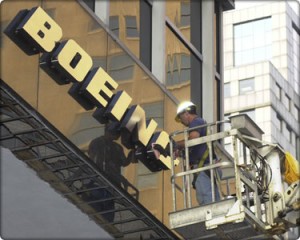 (Reuters) – Boeing Co (BA.N) reported it has bagged more than 1,000 net new orders so far this year, putting the U.S. planemaker on course to sell more aircraft than European rival Airbus for the first time since 2006.
Boeing recorded 1009 net orders through November 6, the U.S. planemaker said on its website, primarily driven by airliner demand for 737 narrow-body jets. The company has received 990 net orders for 737s this year. Boeing sales are running at more than double those of Airbus, a unit of European Aeronautic Defence and Space Co (EAD.PA). Airbus had logged 382 orders
on a net basis to September 30 this year, according to data available on its website. (link.reuters.com/nyw79s)
The Wall Street Journal reported that Boeing has also moved a step closer to selling a larger version of its new 787 Dreamliner, holding detailed discussions with potential customers.
"Boeing has been working closely with airline and leasing customers to define the key capabilities and features of 787-10x, and we anticipate strong market demand for this third and largest member of the 787 Dreamliner family," Boeing spokeswoman Shannon Myers said in a statement issued to Reuters.
On November 8, Boeing said that ALAFCO (ALAF.KW), the Kuwait aircraft leasing company, had finalized an order for 20 Boeing 737 MAX 8 jets valued at $2.0 billion at current list prices.
(Reporting by Sakthi Prasad; Editing by Richard Pullin)