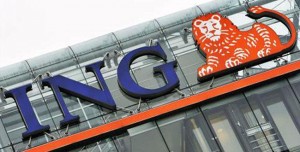 (Reuters) – ING (ING.AS), the largest Dutch financial services group, is to cut 2,350 jobs, or 2.5 percent of its workforce, as it prepares to separate its banking and insurance operations in difficult markets.
ING also said on Wednesday it made a third-quarter net profit of 609 million euros ($780 million), compared with a forecast for 872 million in a Reuters poll.
It is divesting insurance and investment management operations and other assets through disposals or stock market listings as it prepares to repay state aid received in 2008 and bolster its capital.
The group, which employed 94,000 people at the end of June, said it was to cut 1,350 jobs at its European insurance operations and 1,000 at commercial banking.
"As we work to solidify strong standalone futures for bank and insurance, we are taking steps to increase our agility in this uncertain environment," chief executive Jan Hommen said.
The job cuts come after Swiss bank UBS (UBSN.VX) announced last month it was to cut 10,000 staff and wind down its fixed income business.
ING last year announced it was to cut 2,700 jobs, or 10 percent of staff, at its Dutch retail banking operations in the face of deteriorating markets, following similar measures at Dutch rivals ABN AMRO ABNNV.UL and Rabobank RABO.UL.
The Dutch central bank said last year banks were inefficient compared with foreign rivals, and it saw room to cut costs.
ING's dismantling process, which ends the once fashionable bancassurer model it started in 1991, is part of a deal with the European Commission in return for being allowed 10 billion euros ($13 billion) state aid in 2008, and other help.
(Reporting by Gilbert Kreijger; Editing by Dan Lalor and Muralikumar Anantharaman)